NPORS (National Plant Operators Registration Scheme) was established in 1992 and is one of the most widely recognised Accreditation Bodies across the Construction, Waste Management, Utilities, Industrial and Extractives Industries.
NPORS stands firm on the principles it was founded on; supporting industry, regulating training and testing, consistent improvement, equal opportunities and transparency about how they work. Since it's beginnings, NPORS has continued to progress to be a trusted and recognised name in the industry, offering employers a credible training alternative.

NPORS TRADITIONAL CARD
The NPORS traditional card is a non CSCS affiliated card. There are no prerequisite qualifications needed and is open entry to anyone in any sector that operate mobile plant. There is also no requirement to achieve the relevant NVQ.
On completion this card will be valid for 5 years. To renew, the employer needs to fill out a renewal form. This is to verify that the operator(s) have maintained their skills and practice. alternatively, you can do refresher training on each category of plant.
This is advised to ensure individuals are still operating to the prescribed standard and to address any bad habits that have been picked up. This card is appropriate for employers and individuals that do not work in the construction industries. To achieve this card, operators will need to pass a multiple-choice test and a practical skills test.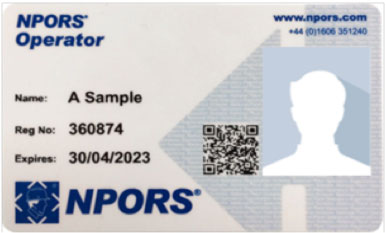 NPORS CSCS RED TRAINED OPERATOR CARD
The NPORS trained operator card is a CSCS affiliated card. This means that a health, safety & environment test for operatives must be achieved. The test is multiple choice and can be taken at various testing locations across the country.
This is required before undertaking NPORS training. it ensures that workers meet a minimum level of health, safety and environmental awareness before going on site. The NPORS trained operator test consists of another multiple-choice test and a practical skills test. Once this has been achieved, operators are issued with their trained operator card which is valid for 2 years.
Within this time, operators are required to enrol onto the relevant NVQ in plant operations. This vocational qualification will allow operators to further demonstrate their skills and knowledge. Once achieved, operators can upgrade from their red trained operators card to a blue competent operators card.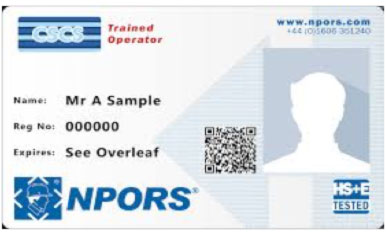 NPORS CSCS BLUE COMPETENT OPERATOR CARD
The NPORS blue competent operators card can only be achieved by completing the  level 2 NVQ Diploma in Plant Operations (Construction). This award carries 2 mandatory units and 1 optional unit (pathway) depending on your chosen category of plant e.g. 360 excavator, loading shovel etc.
These qualifications are on the Regulated Qualifications Framework and are equivalate to a GCSE at passing grade. The NVQ is assessed primarily using observations and professional discussions. This is a qualification for life so there is no renewals needed. However, the NPORS card will need renewing every 5 years.
This is done by completing the health, safety and environment test for operatives as well as a multiple-choice test for each endorsement held on your card.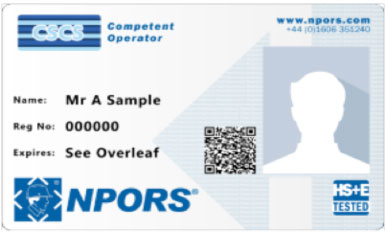 Training
We provide NPORS Training nationwide through our network of approved instructors. Most our NPORS training courses will take place on the clients premises which saves you the hassle and time of having to travel across the country to find a training venue. We can deliver much of our training from our dedicated offices in Bedfordshire but this is theoretical courses only, not plant categories. 
We are approved to deliver the following NPORS Courses:
N010A
Industrial Telescopic Handler
N016
Micro Excavator 360 up to 1 Tonne
N139
Forward Tipping Mini Dumper
Cost
We are one of the most competitively priced NPORS training providers in the UK. Please call us for prices as it varies depending on your location and number of candidates.
Get in touch with us today